Did you know there's an island less than 30 miles off the coast of Los Angeles that's like a mini Mediterranean? I did not but I did know there was a place called Catalina Island! While I didn't know anything about it before, now that I do, I'm excited to share it with you. Hopefully this guide will help you have the best experience ever for your first visit.
I recently visited Catalina Island as a guest of the Catalina Express, Catalina Island Company and the Catalina Chamber of Commerce. This post represents my own experience and opinions, I'm not being paid to share this information. All words are my own unless credited otherwise.
About my Visit
For this trip, I joined my old friends Kelley, Alyssa and David who used to live in New York just like I did! And I made new friends in Nathalie, Nate and Laura (who brought her adorable daughter and husband). I thought it was extra fun to experience Catalina with such a good group of people. If you're a solo traveler, I'd still recommend visiting Catalina. For the times I was on my own, I had lots of opportunities to meet friendly locals. The islanders are chatty and friendly.
And if you're a couple – Catalina can be a great place for romantic travel. Particularly if you stay at Mt. Ada – more on that later!
How to Get to the island
We were hosted on the Catalina Express in their Commodore Lounge departing from the port of Long Beach. It's enclosed but has windows all around. The ticket comes with a free drink: sparkling wine or a Bloody Mary. I chose the Bloody Mary. They're known for them and it's one of my favorite drinks. It was delicious! But given my personal focus on sustainability, I was sad to see it served in a plastic cup. They did have paper straws and I declined that in favor of the reusable glass straw that I carry with me whenever I travel. More drinks are available for purchase from what looked like a pretty full bar.
from their site: "Catalina Express, the only year round boat service to Catalina Island, offers the convenience of up to 30 round trip daily departures from Long Beach, San Pedro and Dana Point to the cities of Avalon and Two Harbors. Most boat trips are only about an hour! Service to and from Avalon is available from all three Terminals. Service to and from Two Harbors is available from the San Pedro Terminal."
You can also get to Catalina Island via helicopter and another ferry company. Do your research and choose the option that best fits your travel needs!
Where to Stay on Catalina Island
We were hosted for two nights by The Catalina Island Company at their property, the Pavilion Hotel. It is just across from the beach in the middle of Avalon. Centrally located to get you almost anywhere on Catalina in a short amount of time. Breakfast is wonderful and included in the room rate. I loved their nightly wine and cheese hour which is complimentary for guests.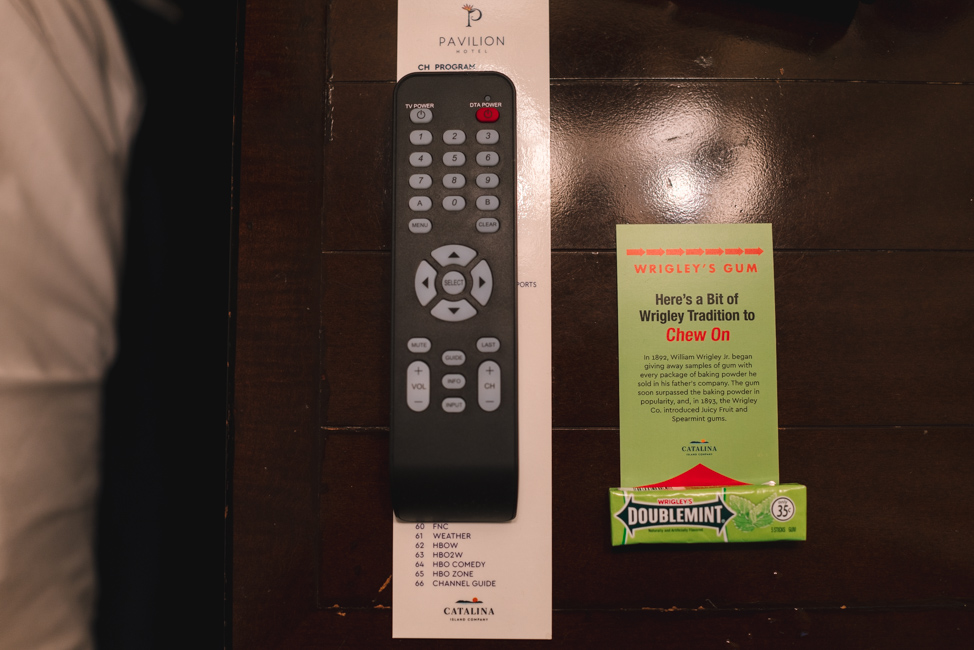 I said I'd share more on Mt. Ada…
They also have Mt. Ada which I would stay at if I returned to Catalina Island. The former home of William Wrigley Jr. and his wife when they were on Catalina in the 1900s, it receives the first light each day and the last. (Perfect for all of my fellow photographers!) Overlooking Avalon, on a hill above town, I think it has the best view on the island. Room reservations come with an embarrassment of riches in terms of added amenities:
a complimentary golf cart for the duration of your stay (normally $50/hr)
complimentary golf at the island's course
a credit at the island's spa
in town dining credit
a 24 hour complimentary Butler's Pantry with alcoholic and non-alcoholic beverages as well as snacks like freshly baked cookies
two meals a day
and so much more!
Mt. Ada isn't open to the public. So its location plus the privacy you experience with other guests being the only ones to share the property with, make it the ideal place for people who enjoy a little more of a low key vacation. Or for those looking for romantic travel.
The Catalina Island Company also has Hotel Atwater.
You Can do Catalina as a Day Trip or Overnight
Two nights on Catalina Island felt like more than enough time to really get to know the island. You can easily find all the Catalina Tile that the island is known for, spend some time at Descanso Beach Club or just generally get a feel for the vibe in a day or two.
We did not have pretty, blue skies for most of our time there so many of my images look a tad bit dull. But I promise in any weather, it is still a lovely place to be! 
You can also visit Catalina Island as a day trip from Los Angeles. Or as a stop on a cruise ship. A day trip would still give you more than enough time to get a feel for Avalon and decide if you ever want to return for a longer stay.
Tours and Activities on Catalina Island
The Catalina Island Company, known online as Visit Catalina, seemed to me to be marketed as the primary tour company on Catalina Island. I was confused by that because in my career working in travel, Visit [insert destination name] is usually reserved for a Tourism Board or Visitor's Bureau. But don't be confused like I was! Now you know because I told you *wink*
Do your research and make sure any tour company offers the tours you want and need to ensure you will have the best experience possible. IF you like tours. If tours aren't for you, as they are often not for me, that's fine too! You CAN explore Catalina Island on your own! Friendly locals will ensure you still have a good time.
We did the Wrigley's Catalina tour which takes place mostly on a bus. It's part of the company's 125th Anniversary celebrations. And it includes a visit to the Catalina Country Club; which was the Chicago Cubs Clubhouse when they did Spring training on the island. Because I love history and Spanish colonial architecture, this was fun for me to see. On the whole though, because I'm a photographer, I don't like bus tours. I can't take great pictures out a window. If I'd known before hand that most of the tour was on a bus, I wouldn't have gone.
Instead, I would have rented a golf cart and driven myself around to see the sights that I had already learned about at the Catalina Island Museum. It is an amazing collection of historical treasures with lots of information about the Wrigley connection to the island. The museum also has temporary exhibitions. Recently, that included work by noted glass artist Dale Chihuly. One of the pieces stayed at the museum and you can see it on the roof under a sort of gazebo. I also LOVED the museum's gift shop. For such a small institution, it's impressively on par with the MET and other famous museum gift shops.
We were provided with golf cart rentals for two hours on the island. It was very fun for us as a group of singles, couples and families! We stopped to take photos a few times together and and it led us to this vantage point which we didn't see on the bus tour:
My favorite tour…
The tour I DID LOVE – so much – was the Behind the Scenes Casino Tour. Did you know that the word 'casino' does not actually denote a place of gambling? I did not!! I learned that and so much more. Because I love architecture, Art Deco, history, old movies and I studied film in college…. this was so. much. fun. for me! If that sounds anything like you, I recommend this 90 minute tour for you as well!
AND there was also an astronomy tour with Kathleen Hill Carlisle. Heavy cloud cover prevented us from actually seeing stars. However, I loved learning about the night sky and its meaning from @KathleenAstro. Her family has been on the island for many generations so her knowledge is particularly applicable to Catalina!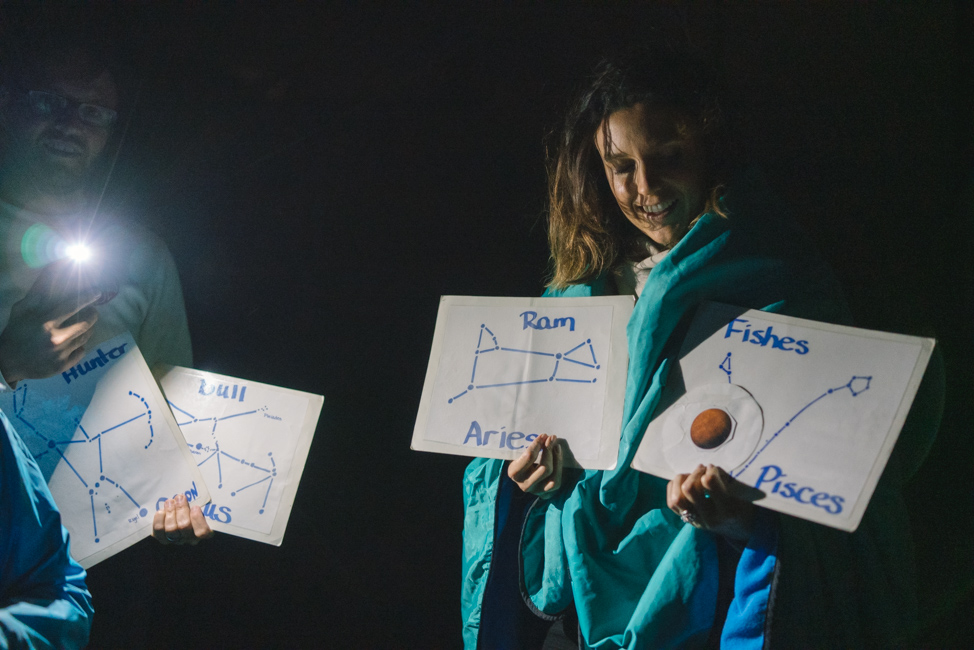 Other members of my press group did zip-lining and kayaking with the Catalina Island Company so if those are your type of activities, know that you can do them on Catalina.
Where to Eat on Catalina
We dined at several restaurants on the island. Two of which were also owned by the Catalina Island Company. There are all kinds of options from Mexican to seafood to American food to a small brewery that serves pizza and even a candy and ice cream shop. Marilyn Monroe worked at Lloyd's of Avalon when she was still known as Norma Jeane and married to James Dougherty.
Our first lunch was at Bluewater Grill just after arrival. I loved the Aussie Burger. We dined on the patio which is actually right on top of the water with a great view!
Avalon Grille is owned by Catalina Island Company and has an elegant interior. My meal was hearty and delectable. You should ask to try Rusack Wine while there. It's owned by Alison Wrigley Rusack, William Wrigley Jr's great-granddaughter, along with her husband Geoffrey Rusack. And it's quite good. But the family connection angle was perhaps the most fun for me, ever the history nerd.
Descanso Beach Club, also part of the Catalina Island Company, had my favorite meal. The tacos are Mexican street style and every bit as good as the delicious ones you can find on the mainland in LA. Which I've become downright addicted to eating since moving to California where they're so easy to get. Though I actually fell in love with them in Mexico many years ago. So different from the "tacos" I had growing up. (Side note: I had good ones in NYC too, if you're there – try out Tacombi!)

a disclaimer:
I was bummed to see our meal at Descanso Beach Club served in plastic cups and on paper plates. Which I was told was because we were close to the beach. But I've dined many places around the world and in the USA where you dine on or near the beach without plastic or paper. When climate change is such an actual crisis, this seemed unnecessary. Human beings can – and should – be responsible enough not to break glass just because it's near a beach. Next time, I'd ask for my drink in the reusable cup that I carry with me whenever I travel.
Our last meal on the island as a group was at Lobster Trap. I thought it was a fun local joint where we all enjoyed visits with the owner who tends to be around bringing pancake shots to locals and first time guests alike. It reminded me a bit of Cheers, with more seafood. Since I'm allergic to that though, I opted for a Blackened Chicken Fettuccine and it was superb.
Avalon isn't the Only Place to Visit on Catalina Island
Avalon is the only full size town on the island. And it's the primary stop for the commercial ferry, the Catalina Express. But it isn't the only town. There's also a village called Two Harbors, known colloquially known as "The Isthmus."
Transportation Options on the Island
I was somewhat surprised to learn there's no car ferry for tourists. Instead, visitors get around primarily by their own two feet, bicycles and golf carts. But I enjoyed knowing that Smart Cars are allowed and are treated as golf carts. And we were told that island residents are on an 18-year waiting list to be allowed to own a car with less than 900 on the entire island!
As I mentioned already, we were provided with golf carts to see Avalon for about two hours by ourselves. For most of us, that was our favorite activity! Though – if you really like to take things slow, then consider renting a golf cart for three hours. We were just a bit rushed in the end.
So…now that you've got these 7 tips to help you make the most of your first visit to Catalina, just enjoy the island! Though it's part of Los Angeles County, it feels a world away from the mainland. It is its own very special thing with so much history and so many stories to discover.